Leveltronic A40 Differential Electronic Level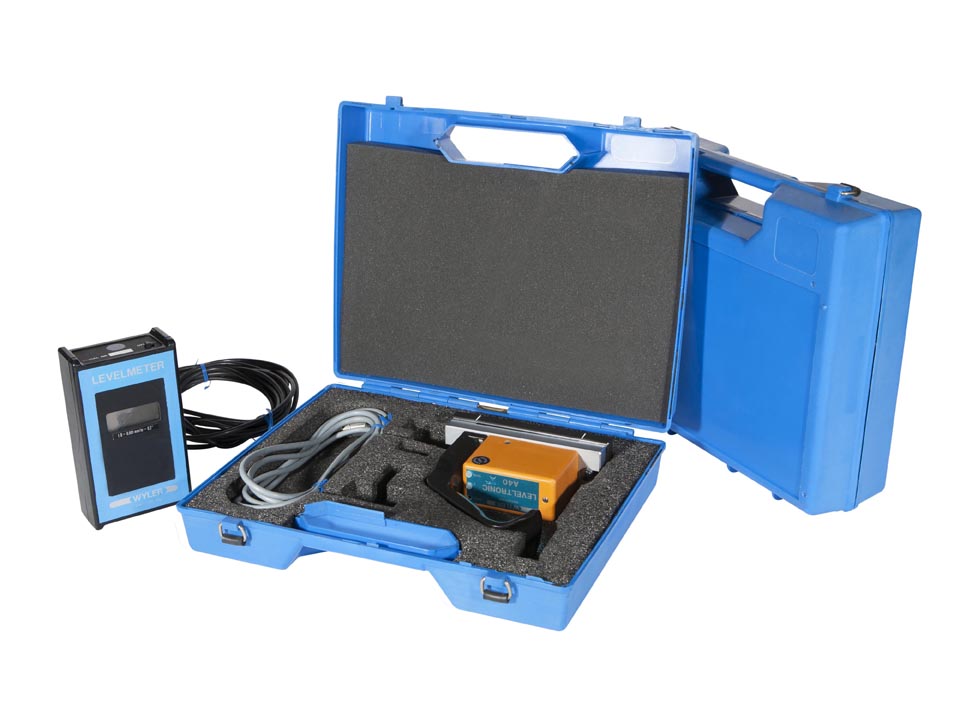 We no longer offer this product. If you want repair service or a custom modern equivalent, contact us.
Includes
Refurbished Wyler Leveltronic A40 with 6 inch Angular V-groove Base
Refurbished Wyler Leveltronic A40 with 6 inch Horizontal Flat Base
Wyler 4 inch Step Length Screw-On Base
Refurbished Wyler Levelmeter Readout for Leveltronic A40
Two 8 foot cables For Wyler A40 Leveltronic System
Carrying cases
User manual
Hofstra Group Refurbishment
Complete operational validation
Rework of signal cables for improved reliability
Replacement of degraded case foam
Replacement of degraded electronic components
Options available from Hofstra Group
Mounting to Ultradex table for measuring large angles and calibrating rotary axes
Traceable calibration
Click Here to Download Brochure
Absolute leveling
In absolute leveling, the Wyler Leveltronic is used to show any deviation in the right-angle relationship between a horizontal surface and the earth's gravitational force (usually expressed as an angular or linear deviation from absolute level), or to show any change in this relationship over a period of time.
Differential leveling
In differential leveling, the Wyler Leveltronic is used to compare the orientation (attitude) of separate or adjacent horizontal surfaces, or to show any change in this comparison over a period of time.
Squareness and arbitrary angles
When mounted to an ULTRADEX table or precision angle plate, the Wyler Leveltronic is capable of measuring squareness and arbitrary angles with respect to gravity or to show any change in arbitrary angular relationships over a period of time.
Principle of operation
A proof mass is suspended by flexures between two electrodes so that the difference in distance between the proof mass and each of the two electrodes may be measured using an integrated capacitance bridge. Even a slight change in the gravitational vector causes the proof mass to move closer to one of the electrodes. This slight change is displayed by the Levelmeter in arcseconds of tilt.
Features
Powered by four AA batteries for complete portability
Hermetically sealed inclination sensors make measurements insensitive to environmental conditions
Excellent linearity
Analog output for data logging
Applications
Check flatness, roll or pitch of machine ways, machine beds and other surfaces which establish critical paths.
Profile surface plates or other precision surfaces.
Align missile, gyro and radar platforms, machine beds and optical devices and critical sight paths.
Check proper installation of building or bridge foundations and structural members.
Show deflections in machine tools caused by movement of carriages and cross slides or by the force of the tool against the work.
Show the extent of deformation in objects under stress.
Use as sensor for feedback control of platform level.