Picosecond Pulse Labs 10,060A Pulse Generator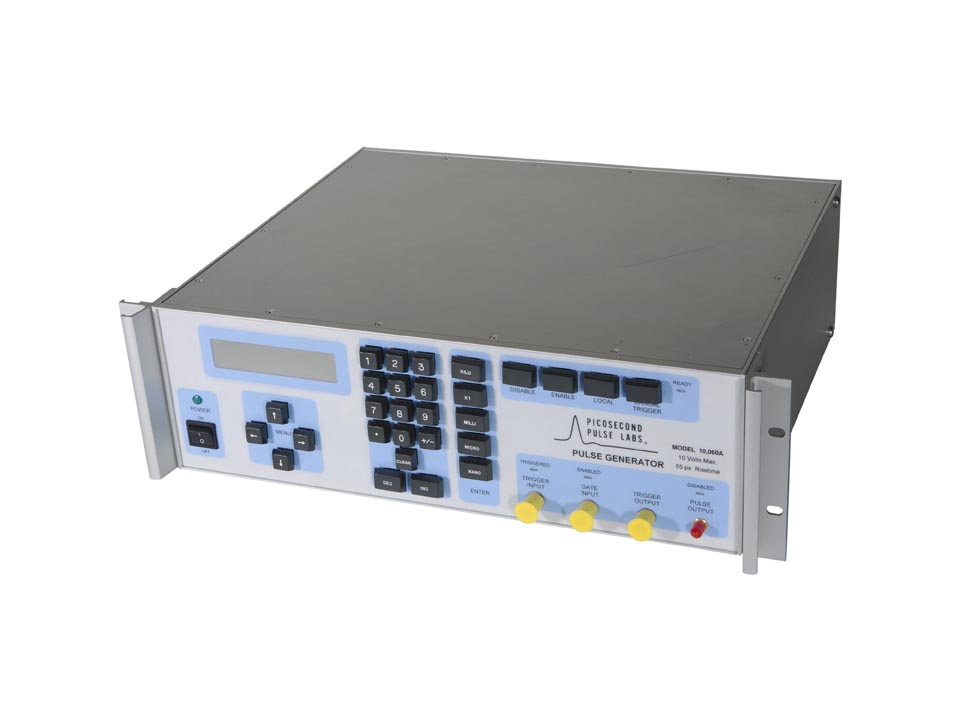 We no longer offer this product. If you want repair service or a custom modern equivalent, contact us.
This is a Tektronix/Picosecond Pulse Labs 10,060A pulse generator with user manual.
The Model 10,060A produces 10 V pulses with 55 ps rise-time. Duration is adjustable from 100 ps to 10 ns. All of the pulse parameters, except rise/fall-times, are fully programmable via the GPIB interface. Slower rise-times can be obtained by externally attaching a rise-time filter. Impulses can be created by adding an Impulse Forming Network.
Applications
EMC (electromagnetic compatibility) testing
EMI (electromagnetic interference) testing
EMP (electromagnetic pulse) testing
TDR (time domain reflectometry) testing
TDT (time domain transmission) testing
UWB (ultra wide band) equipment testing
Features
Rectangular waveform
GPIB (IEEE-488) programmable
User-friendly controls
10V, 45 ps rise-time pulse
100 ps to 10 ns pulse duration
Low jitter, 1.5 ps RMS
81 dB variable attenuator (1 dB Steps)
Click Here to Download Data Sheet
Click Here to Download Application Note: Comparison of Ultra-fast Risetime Sampling Oscilloscopes
Click Here to Download Application Note: Pulse Measurements in the Picosecond Domain
Click Here to Download Application Note: UWB Signal Sources, Antennas & Propagation
Click Here to Download Application Note: Low-Pass Rise-Time Filter for Time Domain Applications
Click Here to Download Application Note: Picosecond Pulse Generators for UWB Radar
Specifications
| | |
| --- | --- |
| Trigger Mode | Internal, External, Manual or GPIB |
| Repetition Rate | 1 Hz to 100 kHz |
| Computer Connection | GPIB |
| Amplitude Range | 900 μV to 10 V |
| Fall Time | 115 picoseconds |
| Delay Jitter | 1.5 picoseconds |
| Duration | 100 picoseconds to 10 ns |
| Trigger Output Delay | 0 to 63 ns |
| Rise Time | 55 picoseconds |
| Output Polarity | Positive |
| AC Input Power | 100/115/230 V AC, 50/60 Hz |