4 Quik E High Speed Gated Image Intensifier Camera 25mm MCP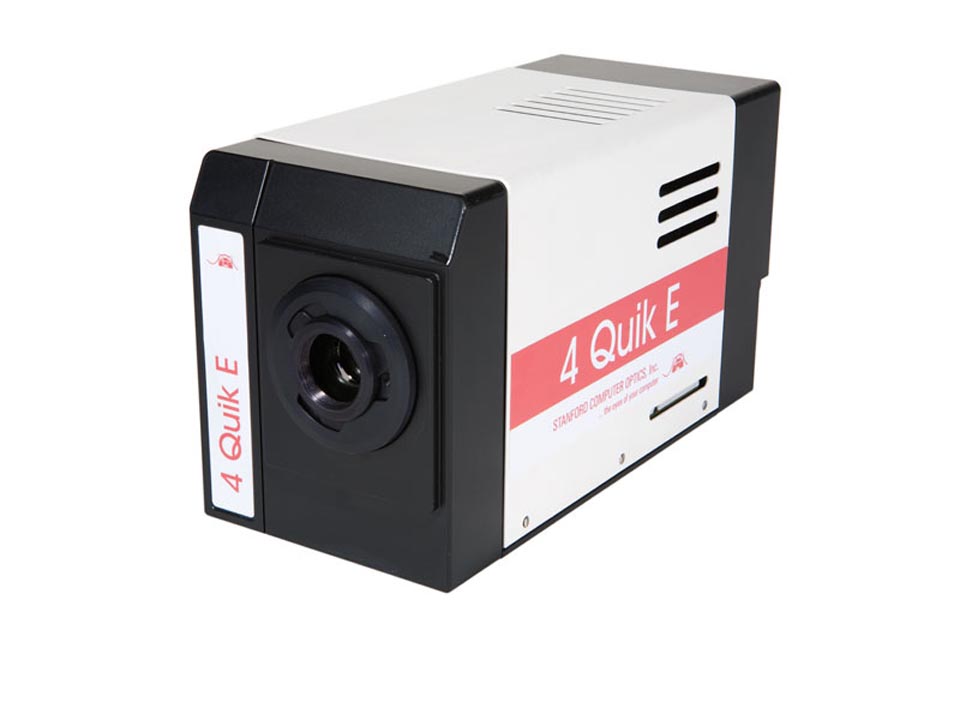 We no longer offer this product. If you want repair service or a custom modern equivalent, contact us.
This is a Stanford Computer Optics 4 Quik E analog high speed gated image intensifier camera with 25 mm MCP. Image intensifier is perfect expect for somewhat brighter areas in two corners of frame when full field of view utilized.
Includes
Refurbished 4 Quick E camera with 25mm single stage S-20 intensifier with quartz window
C-mount lens adapter
Nikon F-Mount lens adapter
New USB video capture pod with software
New USB to RS-232 converter
New SMB and RCA to BNC adapters for connecting video and trigger signals
New power adapter
Terminal program for RS-232 control
User manual with RS-232 commands
The 4 Quik E intensified CCD (ICCD) camera series contains the very best from CCD sensor and gated image intensifier technologies. Allowing it to achieve superior combination of rapid acquisition rates and ultra-high sensitivity down to single photon. Exceptional detection performances are possible through high quantum-efficiency (QE) image intensifiers.
Extrem low jitter, low insertion delay gating electronics and nanosecond-scale optical gating provide excellent timing accuracy down to 100 picoseconds. This, coupled with the 4 Quik E ICCD camera series' comprehensive range of triggering options and input/output interface allows ultra-precise synchronisation for image acquisition on complex experiments.
Features
Gate time down to 5 ns
High resolution images
Superior image quality
Highest exposure repetition rate
Single photon detection
Light and compact design
Applications
Hyper-Rayleigh measurements
Combustion imaging
Electrical breakdown measurements
Fluorescence spectroscopy
Spray and flow imaging
Laser induced breakdown spectroscopy (LIBS)
Raleigh scattering
Time-resolved optical emission spectroscopy
Streamer discharge research
Click Here to Download Brochure
Click Here to Download Spec Sheet
Click Here to Download Dimensioned Drawing
Specifications
| | |
| --- | --- |
| Exposure Times | 5 ns to 80 s |
| Computer Connection | USB via included adapter |
| Field of View | 20 x 15 mm |
| Camera Lens Mount | Nikon F-Mount or C-mount |
| Input Window Material | Quartz |
| Camera Output | Analog video |
| Resolution | 768 x 494 pixel (EIA) |
| Maximum Repetition Rate | 8 kHz |
| Photocathode Spectral Response | S-20 (UV) |
| AC Input Power | 100 to 240 V AC, 50/60 Hz, 1.0 A |