SIP 305M Universal Length Measuring Machine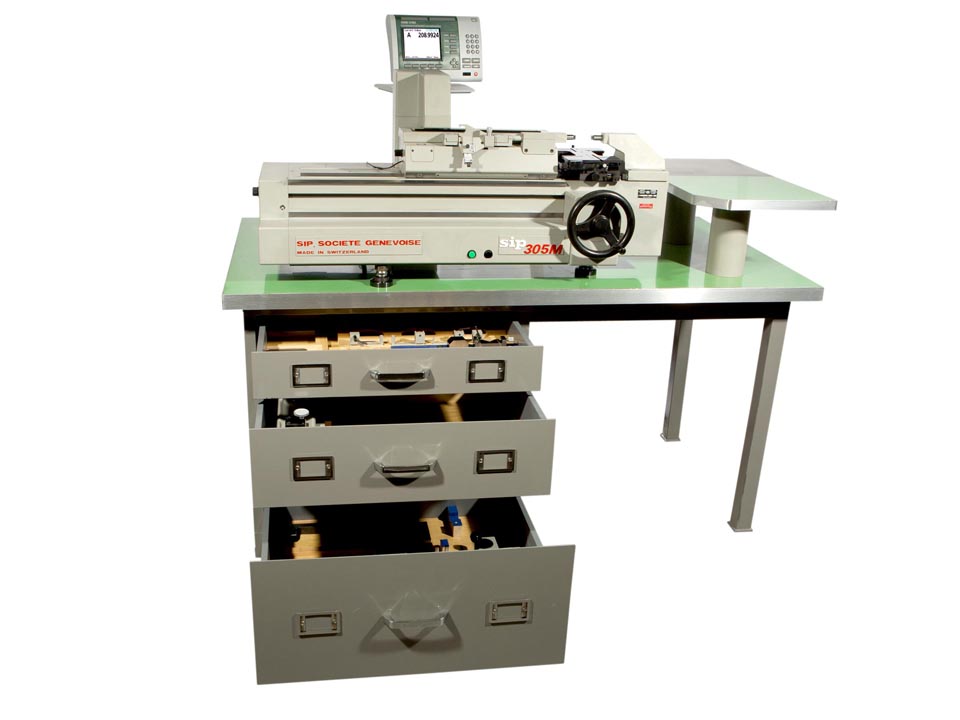 We no longer offer this product. If you want repair service or a custom modern equivalent, contact us.
This is an SIP 305M Length Measuring Machine that has just been refurbished. All of the electronic and opto-electronic components in the measuring system have been replaced with new assemblies designed specifically for this instrument. The new components have far better reliability and performance than the original system, and have been aligned and adjusted to factory specifications. A standard Heidenhain-specification output from the measuring scale means that the digital readout can easily be changed at any time in the future.
Although the instrument is designed for operation at 20°C, both the scale and bed are made from materials with coefficients of expansion very similar to that of steel, so exact temperature control is not necessary in most cases where the work and instrument are equilibrated.
The included Heidenhain/Metronics Gage-Check digital readout has been configured especially for this instrument, and includes 2 LVDT inputs in addition to the main scale input so that a lever probe can be connected without disconnecting the internal null probe. The Gage-Check can either function as a standalone instrument, or in conjunction with an external computer.
Click Here to Download Gage-Chek Brochure
Components Include:
Refurbished 305M Length Measuring Machine
Installation Manual
Operator's Manual
Maintenance Manual
Work Table with Accessory Storage Drawers
Gage-Chek with Operator's Manual
Universal measuring table for external and internal measurements, adjustable about two perpendicular axes for aligning the parts to be measured (transverse displacement, vertical adjustment and floating platen with clamping device).
Transverse Center Cradle
Longitudinal Center Supports with 6-position Indexing Wheel for Measuring Periodic Pitch Error
Eight Feelers for Pitch Measurement
Longitudinal Vee Supports for Very Long Work
Bushing for Lapping Feelers Flat and Parallel
Attachment for checking micrometers from 20 to 205 mm (.787 to 8.0625 in) with hooked feelers, holding fixture for micrometer frame, T-support block for reference ring, and T-bolts.
Device for internal measurements from 2 to 20 mm (.078 to .78 in) with TESA GT 31 lever probe and ruby probe.
Device for measuring the pitch diameter of threaded rings with pitches of 0,75 to 6 mm and 36 to 4 tpi
Two Holders for Gauge Wires
Flat Supporting Block for Table
Supporting Block with Single and Double Vees
Pair of hooked feelers h=13 mm (1/2 in) for internal measurements from 10 to 205 mm (3/8 to 8 1/16 in)
Pair of hooked feelers h=19 mm (3/4 in) for internal measurements from 20 to 205 mm (3/4 to 8 1/16 in)
Two 45 mm Quick-Acting Clamps
Two 95 mm Quick-Acting Clamps
Attachment for Measuring Pitch Diameter of Threaded Rings from M5 to 125 mm (BSF 3/16-32 to 5 in) Internal and up to 200 mm (8 in) external. This accessory includes a TESA GT 31 lever probe with a set of 11 ruby probes and a holder for the probe.
Instrument weighs 475 lb and measures 15x20x43 in. Table with accessories weighs 501 lb and measures 48x36x63 in.
Specifications
| | |
| --- | --- |
| External Measuring Range | 305 mm |
| Distance Between Centers of Transverse Cradle | 3 to 210 mm |
| Maximum Diameter with Transverse Cradle | 100 mm |
| Transverse Travel of Transverse Cradle | 76 mm |
| External Thread Pitch Measuring Length | 305 mm |
| External Thread Pitch Maximum Diameter | 80 mm |
| Maximum Distance Between Longitudinal Centers | 560 mm |
| Linear Resolution | 0.1 μm |
| MEASURING ERRORS DUE TO NON-LINEARITY (SIMILARITY OF SUBDIVISIONS) OF THE METROLOGICAL ELEMENT | Having 95 % of chances of not exceeding 0.6 µm (24 µinch) |
| Measuring Force | 0 to 1 lb Internal, 0 to 2.5 lb External |