2700C Step Generator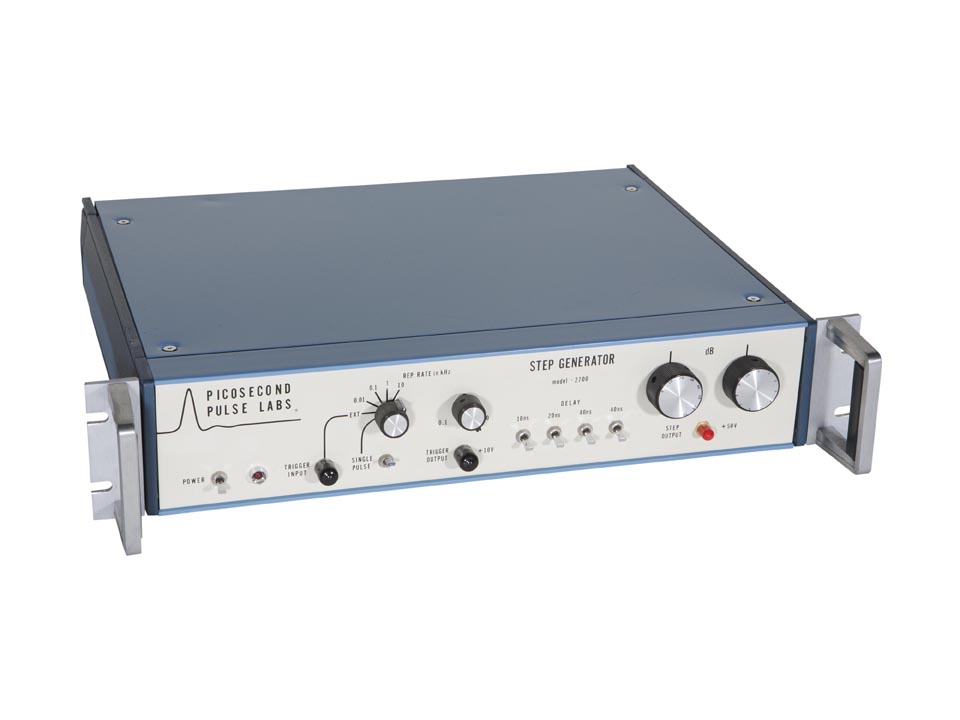 We no longer offer this product. If you want repair service or a custom modern equivalent, contact us.
This is a Picosecond Pulse Labs/Tektronix 2700C Step Generator with user manual.
The PSPL model 2700C Step Generator produces fast, clean, flat, 50V, 200 ns, step function pulses. The top-line perturbations are less than ±1%. The amplitude can be adjusted over a 69 dB range in 1 dB steps. The 2700C is a complete instrument with built-in power supplies, rep. rate clock and trigger circuits. The trigger delay is adjustable from 0 to 110 ns in 10 ns steps with an extremely low jitter of 3.5 ps rms. The instrument is rack mountable.
Applications
Calibration Standard for determining the step response of oscilloscopes
Semiconductor switching
Time testing
Coaxial cable testing
Driving laser diodes
EMP simulators
Click Here to Download More Info
Click Here to Download Application Note
Specifications
| | |
| --- | --- |
| Pulse Output Connector | SMA |
| Jitter | ≤3.5 picoseconds RMS |
| Step Duration | 200 ns |
| Trigger Connector | BNC |
| Rise Time | 300 picoseconds |
| Output Polarity | Positive |
| Pulse Amplitude | 50 V |
| AC Input Power | 100/115/300 V AC, 50/60 Hz, 21 w |