Picosecond Pulse Labs 9027 Programmable Pulse Generator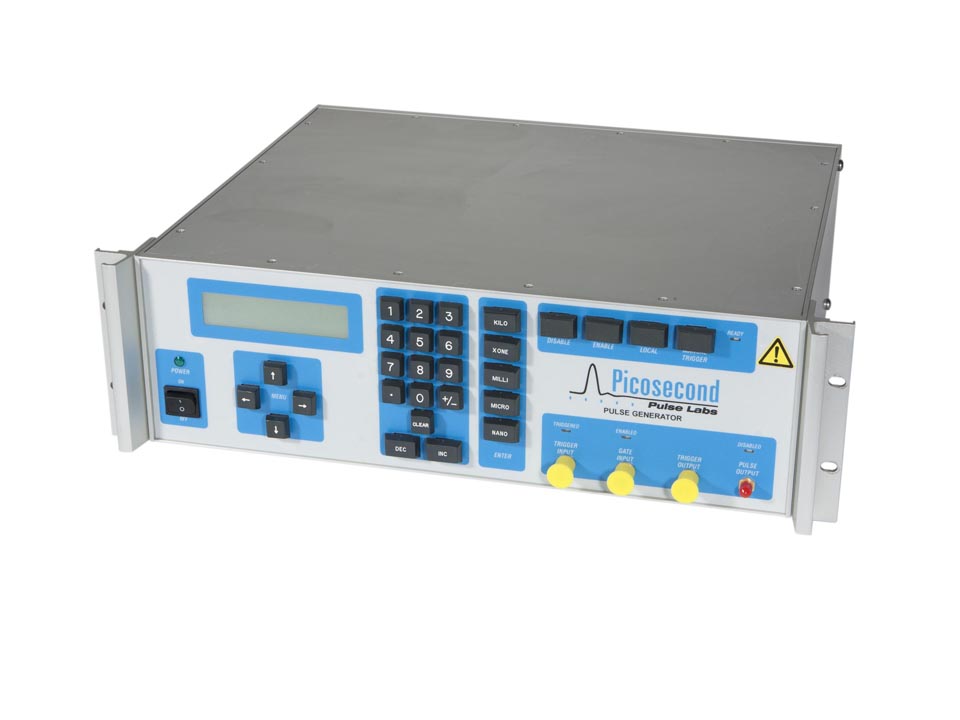 We no longer offer this product. If you want repair service or a custom modern equivalent, contact us.
This is a Picosecond Pulse Labs 9027 pulse generator with user manual.
Ultra-Wideband (UWB) signal generation pulsers make excellent UWB signal sources for characterizing antennae and other components of UWB systems (e.g. RADAR, communications, etc.). The Model 9027 is a programmable UWB pulse generator capable of producing fast rectangular pulses. The Model 9027 is very flexible and has adjustable amplitude and pulse duration. It is fully programmable over the GPIB bus.
Features
Amplitude adjustable from 2.8mV to 35V in 1/8 dB steps
Pulse repetition rate from single shot to 100 kHz
External trigger options: trigger level, slope, hysteresis, and gating
10 battery-backed up generator setup memories
Full GPIB programmability
Click Here to Download More Info
Specifications
| | |
| --- | --- |
| Amplitude Range | 2.8 mV to 35 V |
| Computer Connection | GPIB |
| Delay Jitter | 10 picoseconds |
| Fall Time | 900 picoseconds |
| Duration | 1 to 100 ns |
| Offset Range | -5 to +5 V |
| Rise Time | 400 picoseconds |
| Maximum Repetition Rate | 100 kHz |
| Output Polarity | Positive or Negative |
| AC Input Power | 115 V AC @ 60 Hz, 48 VA or 100, 230 V AC @ 50 Hz, 65 VA |
| Trigger Delay | 0 to 100 ns |