PT-55 High Voltage Pulser/Trigger Generator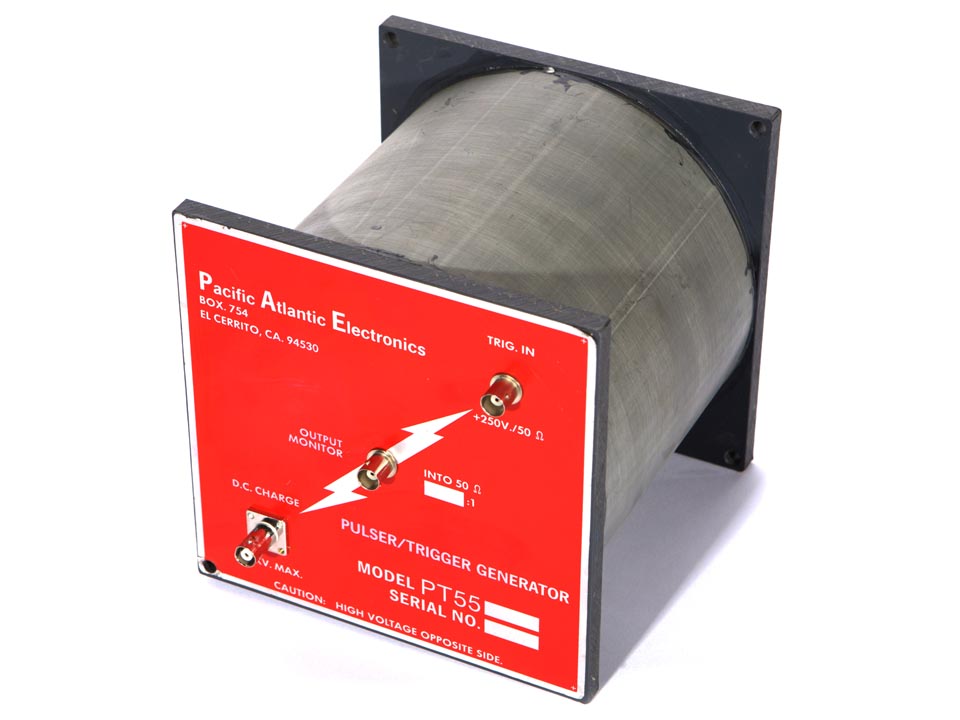 We no longer offer this product. If you want repair service or a custom modern equivalent, contact us.
This is a Pacific-Atlantic Electronics PT-55 Pulser/Trigger Generator with user manual.
The PT-55 high-voltage trigger generators produce ultra fast rise time, high-voltage output pulses for applications requiring pulse amplitude in excess of 50 kV, such as spark gaps. The PT-55 also features negligible shot-to-shot jitter and a typical lifetime of 10,000 shots.
Features
State-of-the-art pulser/trigger
Simple to install and operate
Greater than 50kV pulse amplitude
Ultra fast rise time
Negligible shot-to-shot jitter
Minimal output isolation necessary
Typical life of 10,000 shots
Click Here to Download More Info
Click Here to Download Information on Applications
Specifications
| | |
| --- | --- |
| Maximum Charge Voltage | 7 kV |
| Output Rise Time | 2 ns |
| Trigger Input Impedance | 50 Ω |
| Pulse Amplitude | >50 kV |
| Output Pulse Width | 75 ns |
| Output Jitter | 4 ns |
| Minimum Trigger Voltage | 250 V |