NH Research 5600 Series DC Power Supply Test System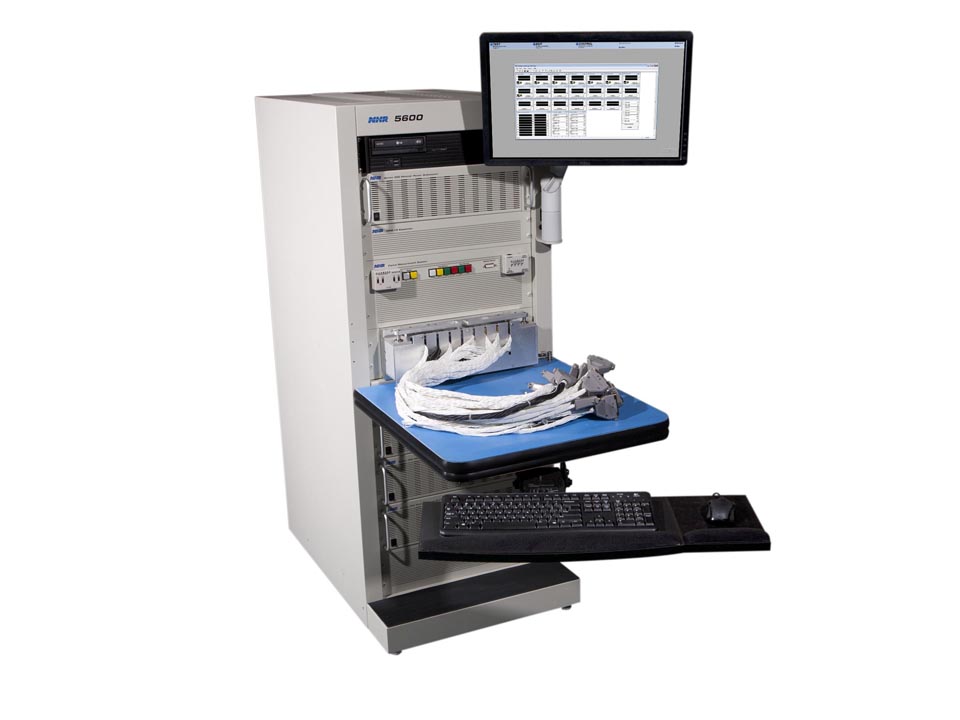 We no longer offer this product. If you want repair service or a custom modern equivalent, contact us.
This is a freshly refurbished NH Research Model 5600 Series DC Power Supply Test System running the latest version of emPower Test Executive software.
Included
Digital Measurement System (DMS) with 16 input channels
DMS I/O Expansion with 15 additional input channels
(7X) Model 6080 DC Sources, 12 A, 80 V DC, 400 W
Model 6400 DC Source, 3 A, 400 V DC, 400 W
(8X) Model 4110 DC Loads, 60 A, 80 V DC, 300 W
New Cybertron rack mount computer running emPower v9.20 on Windows 7
New 22" widescreen monitor
Test adapter terminated with DB37 connectors
User Manual
Power cords
The 5600 Series DC Power Supply Test System is a high performance power supply automatic test equipment (ATE) platform that makes all critical measurements through a waveform digitizer. This allows more comprehensive measurements, higher test speeds, smaller cabinet/footprint size and ultimately, a simpler, more reliable power supply test system. The 5600 targets mid-to-large DC-DC power supplies and can be configured from a wide variety of power stimulus options.
The 5600 Series DC Power Supply Test System allows for extensive testing of power supplies for critical applications such as network servers, avionics, medical equipment and telecom. This is made possible through the Digital Measurement System (DMS), which features a 2×16, 100 MHz multiplexer combined with 2 waveform digitizers. In addition to the higher bandwidth, the DMS provides highly accurate channel-to-channel timing measurements and corresponding waveform displays.
The 5600 Series DC Power Supply Test System establishes a new standard in lowering power supply testing costs by dramatically improving tester throughput. Because there is a single measurement instrument, switching between measurement instruments is eliminated and test speed is significantly improved.
The emPower Test Executive software is optimized for highly efficient power supply test within a computer-controlled manufacturing environment. It is a ready-to-run, 32-bit, multi-threaded application that assures the fastest path to up-and-testing power supplies. Straightforward factory integration is achieved with software interfaces based on Microsoft ActiveX controls and COM (Common Object Model) standards. These make it compatible with internal network interfacing and reporting protocols as well as third-party software extensions. Faster power supply test program development is achieved through a notebook-like framework that intuitively leads one through the entire sequence of building a power supply test program and data logging the test results.
Click Here to Download More Info
Specifications
| | |
| --- | --- |
| AC Input Power | 230 V AC, 1 ph, 60 Hz, and 115 V AC, 1 ph, 60 Hz |