Vacuum Ultraviolet Monochromator/Spectrograph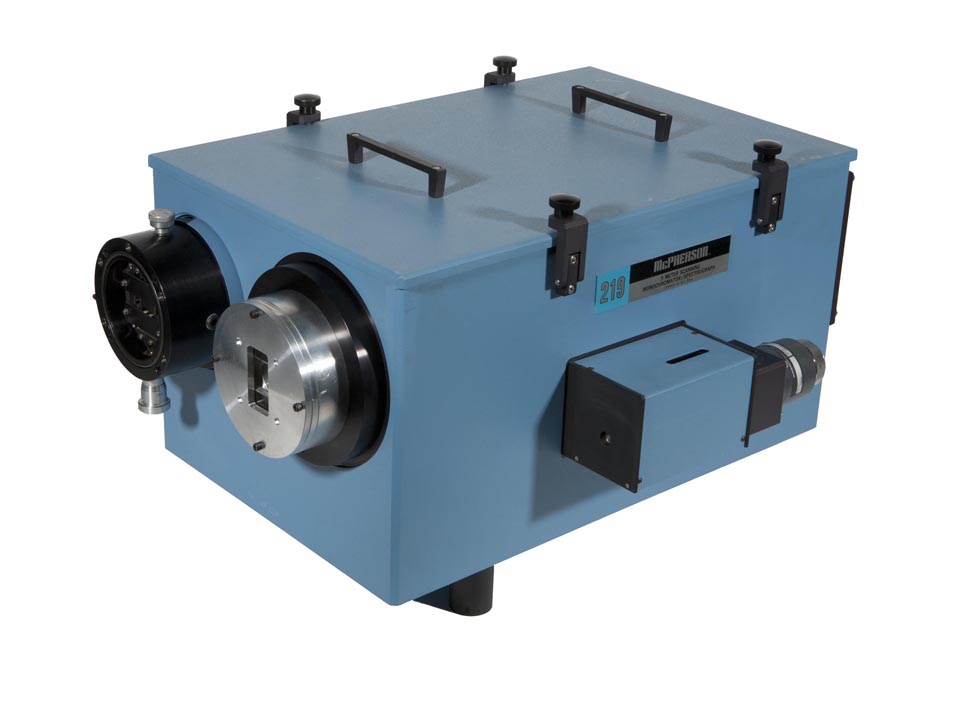 We no longer offer this product. If you want repair service or a custom modern equivalent, contact us.
This is a McPherson Inc. Model 219 vacuum ultraviolet (VUV) corrected Czerny-Turner Monochromator/Spectrograph. Included are:
Adjustable input slit
1200 line/mm, 500 nm, 50x50 mm, Snap-In Grating Has non-removable smudges.
1200 line/mm, 750 nm, 50x50 mm, Magnesium Fluoride Snap-In Grating Has minor scratches parallel with lines.
User Manual
Note: grating rotation can be controlled by side mounted adjustment knob or on-board stepper motor. If you would like assistance selecting an appropriate stepper drive please contact us.
The Model 219 is a 500-mm focal length f/8.7 vacuum monochromator. It features the McPherson patented Corrected-Loci (US Pat. 3490848) optical design and uses Snap-In Gratings (US Pat. 3433557). It comes standard with a manual grating rotation drive and a wavelength counter accurate to 0.1 nm. Grating rotation can also be controlled by on-board stepper motor. The grating holder accepts 50 x 50 mm plane Snap-In gratings and can alternately be used with 68 x 68-mm gratings.
A bilaterally adjustable entrance slit is provided with a range of 10 microns to 4 mm. (4000 microns.) The slit control knob has twenty graduations, each representing 20 microns. A mechanical stop prevents the slit jaws from closing below 5 microns. Slit height is adjustable from 0 to 20 mm.
The vacuum tight housing is internally welded. All the instruments moving parts are outside the chamber to insure clean, easy evacuation. A large 6-inch focusing mirror delivers a 100-mm wide focal plane at the exit port. The optics in this instrument are coated with Al+MgF2 enhancing the vacuum UV response.
Many available accessories allow this instrument to be configured as a monochromator, spectrograph, or polychromatic. It will accept CCD, microchannel plate, film and even multi-channel polychromatic attachments with up to six 1-inch side on PMTs.
Features
Czerny-Turner design
Internally welded, vacuum tight housing.
Al+MgF2 coated optics for enhanced UV response
Corrected-Loci optical design
Snap-In Gratings