40168 50 kV Trigger Amplifier for Rail Gap/Spark Gap Switches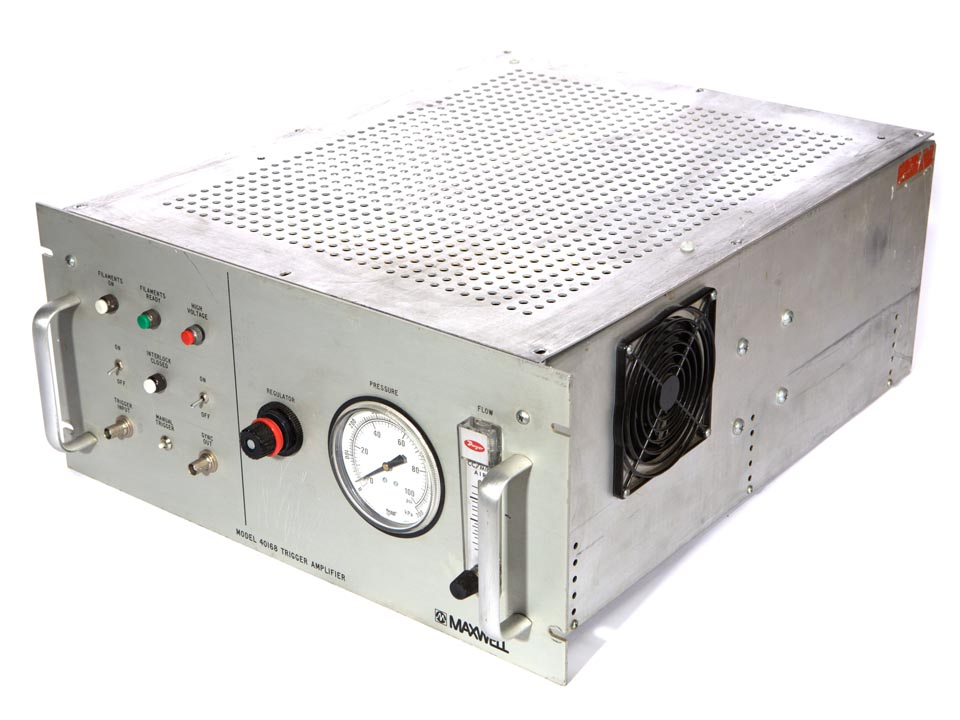 We no longer offer this product. If you want repair service or a custom modern equivalent, contact us.
This is a Maxwell Technologies/L-3 Pulse Sciences Model 40168 50 kV Trigger Amplifier with user manual.
The 40168 trigger generator has been designed primarily as a low-impedance, high-voltage trigger source for Marx generators, capacitor banks, and single or multiple switches. It can also be used as a low-impedance pulser for a variety of applications such as electromagnetic pulse injectors or laser excitation. Utilizing a Thyratron-triggered spark gap, the 40168 takes incoming 10 V trigger signals and amplifies them to 50 kV pulses.
Features
Self-contained gas control panel with regulator, gauge, flow meter, and filters
Rep-rate up to 10 Hz
Standard 19" rack-mountable
Click Here to Download More Info
Specifications
| | |
| --- | --- |
| Trigger Connector | BNC |
| DC Output Voltage | 50 kV |
| Number of Output Connections | 2 |
| Trigger Voltage | 10 V |
| Purge Gas Port | Swagelok |
| Output Rise Time | <10 ns |
| Maximum Repetition Rate | 10 Hz |
| Output Polarity | Positive |
| Output Jitter | <10 ns |
| AC Input Power | 95-130 V AC, 60 Hz, 235 W |
| Output Connector | Modified PL-259 |