Picosecond Laser 1064nm 532nm 355nm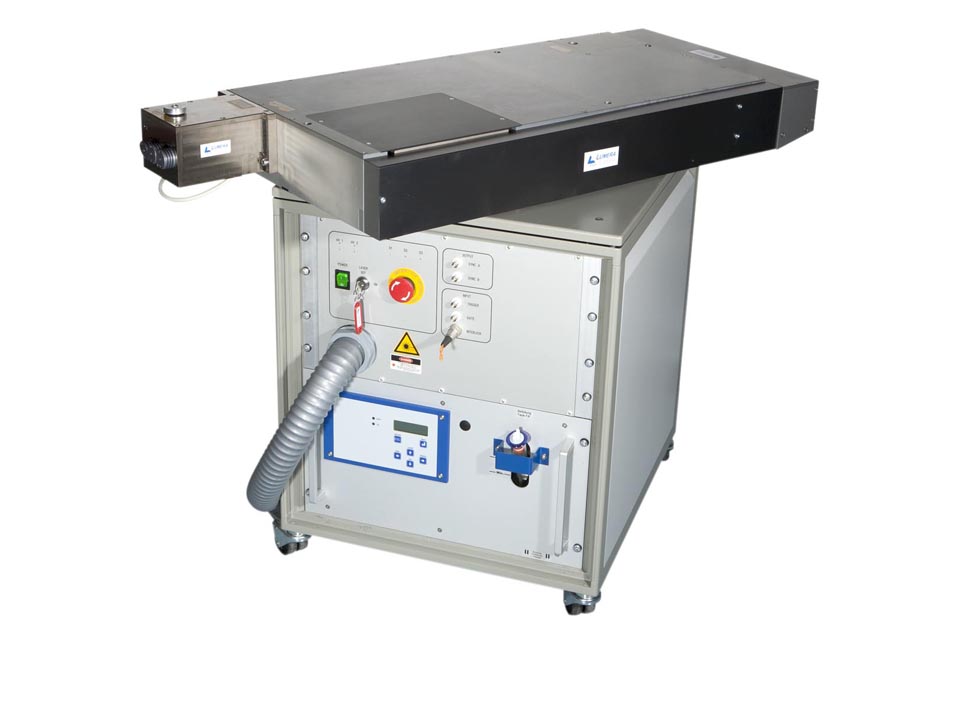 We no longer offer this product. If you want repair service or a custom modern equivalent, contact us.
This is a Lumera Rapid picosecond laser system that has been tuned and tested for as-new performance. 532 nm and 355 nm options are included. On-site setup and tuning are available for an additional fee.
RAPID is a very cost efficient, compact, diode pumped Nd:YVO4 picosecond laser with 2 W average power at 1064 nm. Its 10 ps-pulses have high pulse energy (up to 30 μJ) and high peak power of up to 3 MW. The excellent beam quality (M2<1.2) allows for focussing the beam onto very small areas to easily reach peak power densities in the TW/cm2 range sufficient for micromachining virtually any material.
The outstanding repetition rate of 500 kHz translates into micromachining with high throughput and cutting cost per part. At all repetition rates the beam quality is excellent. External TTL pulses can trigger single pulses or pulse sequences. Designed for hands-off operation, the RAPID offers a maximum of reliability. The system is hermetically sealed; the complete laser head is thermalized. Its compact design makes machine integration straightforward. Laser functions are PC-controlled and accessible via RS232 interface.
Click Here to Download More Info
Picosecond Lasers for Micromachining
Features
Up to 500 kHz repetition rate, single pulse, programmable pulse sequences, TTL-trigger
Picosecond pulses up to 30 μJ, up to about 3 MW peak power
High power stability in a spatially excellent beam, M2<1.2, at all rep rates
Reliable, hands-off operation, compact design, computer control and interface
Low maintenance and low cost of ownership
Single phase mains electrical connection (85-260 V, 50-60 Hz, <2 kVA)
Integrated computer and chiller
No external cooling water requirement, easy machine integration
Applications
Materials processing with high ablation quality: Selective drilling, cutting, structuring, surface structuring, specifi cally in semiconductor technology.
Metals, semiconductors, ceramics, glass and other materials have been micromachined in very high quality and efficiently in LUMERA LASER´s application lab with ~10 ps pulses at energy densities in the order of 1 J/cm2. For target areas of ~10x10 μm2 this translates to ~1 μJ pulse energy.
Increasing the pulse repetition rate up to 500 kHz increases the material removal rate linearly (with constant pulse energy and geometry).
Applications, in addition to micromachining, include: R/D, NLO, THz generation, ps-spectroscopy, satellite ranging and material research.
Included Accessories and Options
1064 nm, 532 nm, and 355 nm output
IR-blocking filter for 532 nm output
User Manual
Monitor, Keyboard, and Mouse
Coolant Additives for Chiller Water