ITT F4014 (S1) Ultra-Fast Vacuum Biplanar Phototube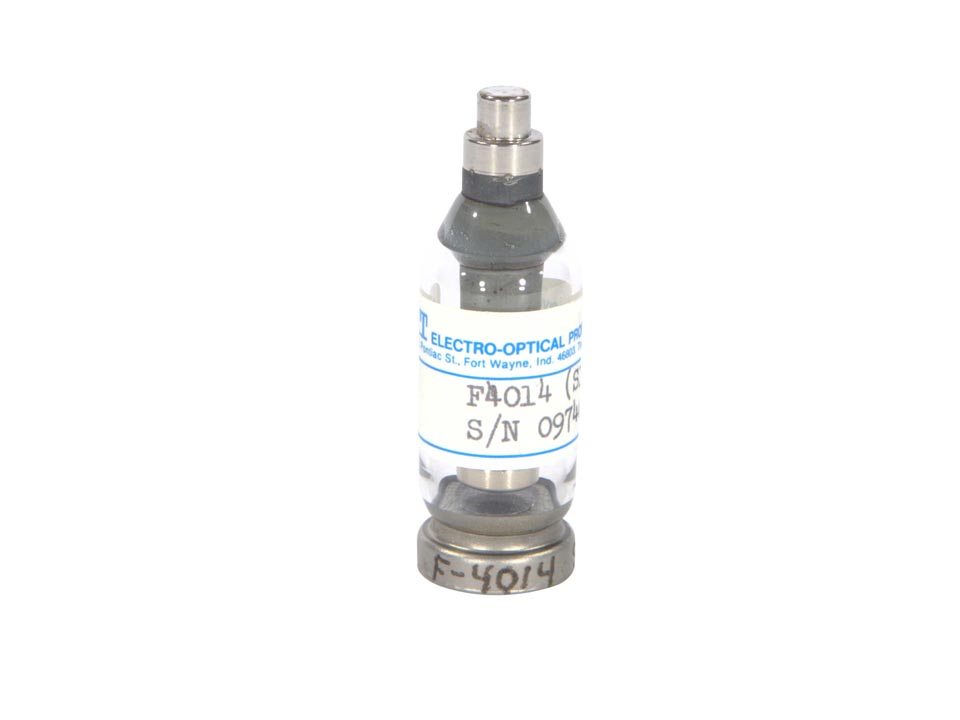 We no longer offer this product. If you want repair service or a custom modern equivalent, contact us.
This is an ITT model F4014 (S1) vacuum biplanar phototube for applications that require fast rise time. With a rise time of less than 100 picoseconds, detailed examination across nine orders of magnitude can be made in the gigahertz range.
Specifications
| | |
| --- | --- |
| Effective Photocathode Diameter | 9.5 mm |
| Major Diameter | 19.1 mm |
| Effective Photocathode Area | 71 mm2 |
| Rise Time | 100 picoseconds |
| Anode Mesh Openings per 25.4 mm | 20 |
| Length | 60.3 mm |
| Anode Mesh Optical Transmission | 80 % |
| Resistance of Anode Mesh | 0.5 Ω |
| Typical Operating Voltage | 1 kV |
| Photocathode Spectral Response | S-1 |
| Typical Photocathode Luminous Sensitivity [µA/lm] | 15 |
| Photocathode Peak Radiant Sensitivity [A/W] | 0.0015 |
| Maximum Peak Current Output | 0.1 A |
| Maximum Average Current Output | 3 μA |
| Interelectrode Capacitance | 1 pF |
| Deviation From Linearity | 10 % |
| Typical Photocathode Infrared Sensitivity [µA/lm] | 1.5 |
| Maximum Dark Current | 10 nA |
| Weight | 21.3 |