Digital Sampling Optical Oscilloscope OOS-01 IR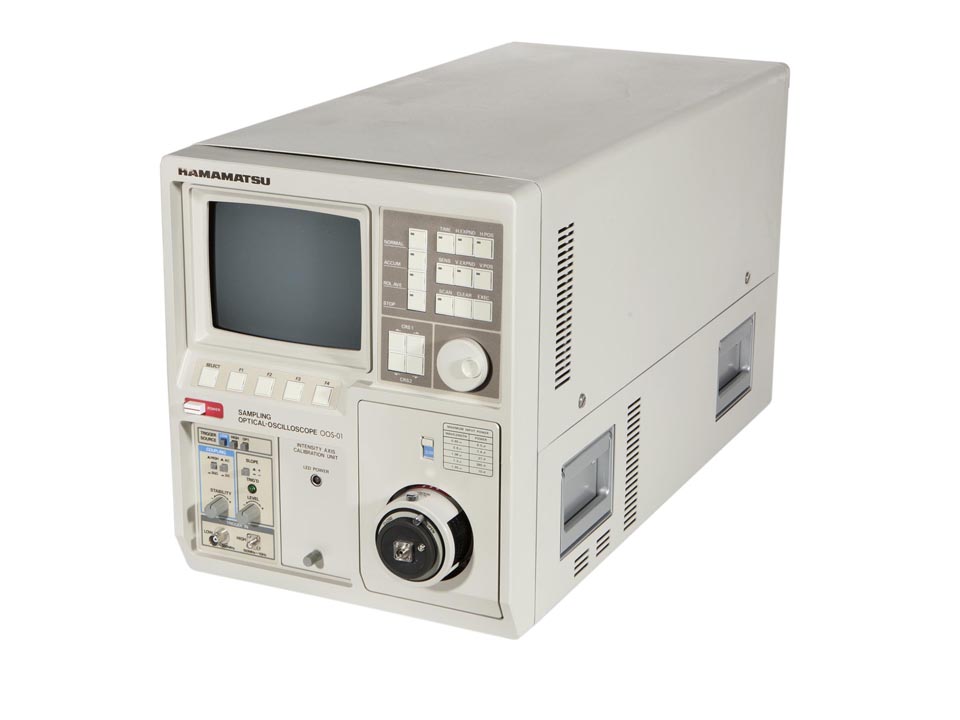 We no longer offer this product. If you want repair service or a custom modern equivalent, contact us.
This is a refurbished Hamamatsu OOS-01/IR digital sampling optical oscilloscope with IR Sampling Head, Sampling Head cable, FC connector adapter plate, and User Manual. User Manual includes full documentation of GPIB commands. The OOS-01 is a visible-infrared sampling streak camera fully integrated with digital readout and analysis electronics that provides the performance of a streak camera with the convenience of an oscilloscope.
The OOS-01 Sampling Optical Oscilloscope uses a special photoelectron tube—the sampling streak tube—developed independently by Hamamatsu Photonics in a powerful system for optical measurement. The sampling streak tube is not simply a photodetector. All the electronic processing from light detection to sampling is performed in the tube (electronic sampling).
The transmission line required to link a photodetector and a conventional oscilloscope can now be dispensed with. This eliminates the ringing waveform distortion due to the transmission line almost completely, and enables accurate optical intensity waveform measurements. The OOS-01 also realizes rise and fall times of better than 10ps for the best performance in the world.
Click Here to Download More Info
Specifications
| | |
| --- | --- |
| Waveform Math | FFT, Addition, Subtraction, Multiplication, and Division |
| Maximum Sampling Rate | 2 MHz |
| Minimum Wavelength | 400 nm |
| Maximum Wavelength | 1550 nm |
| Minimum Trigger Frequency | 30 Hz |
| Maximum Trigger Frequency | 1 GHz |
| AC Input Power | 100/117 or 220/240 VAC, 50/60 Hz |
| Communication Protocols | GPIB |
| Temporal Resolution | 10 picoseconds |