C1587-01 Infrared Streak Camera Camera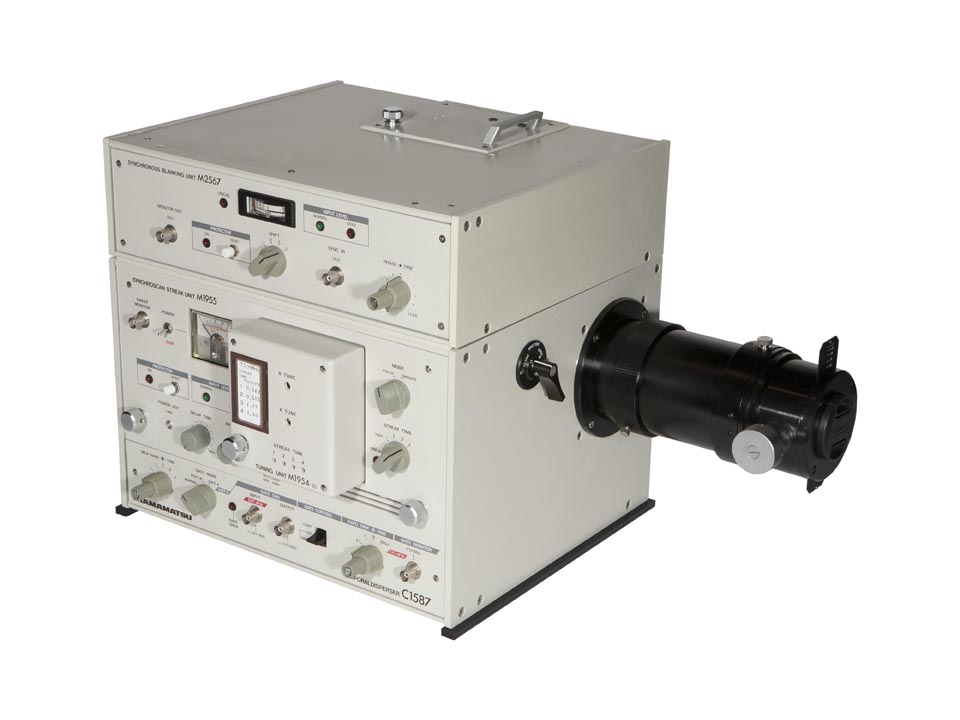 We no longer offer this product. If you want repair service or a custom modern equivalent, contact us.
Includes
C1587-01 Infrared Streak Camera with A1975-01 Infrared Optics
M1952 High Speed Streak Unit
M1955 Synchroscan Streak Unit †
M1954-10 Synchroscan Frequency Tuning Unit
M2567 Synchronous Blanking Unit
M2568 Tuning Unit for Synchronous Blanking Unit †
M2887 Dual Time Base Extender
C1587-01 Power Supply
ORCA-ER Cooled CCD Camera Head
ORCA-ER Firewire Camera Controller
ORCA-ER Camera Head to Controller Cable
Hamamatsu DCAM image acquisition software
User Manuals
Calibration data for M1953 for sweep speeds from 200 ns to 1000 μs
Calibration data for M2887 for sweep speeds from 1 μs to 10 ms
† Note: Synchroscan and synchronous blanking plugins are currently tuned for 75 MHz but can be tuned by Hofstra Group to other frequency ranges up to 165 MHz.
Hofstra Group Refurbishment
Replaced most electronic components
Replaced and re-potted high voltage components
Tuned all circuits for optimal performance
Verified streak tube condition
Extensively tested performance
Options available from Hofstra Group
Spectrometer input for time-resolved spectroscopy
UV and VIS input optics
Re-tuning of synchroscan for other frequency bands
Re-tuning of synchronous blanking for other frequency bands
Modification of electronics and optics for special applications
Development of custom modules
Custom optics
Calibration of high speed sweep settings
Service and training
Universal Streak Camera
This C1587 Universal Streak Camera system has interchangeable plug-ins that enable a user to perform a variety of high-speed measurements for diverse applications. The Fast Sweep and Synchroscan units offer high repetition rates of up to 1 kHz for Fast Sweep and up to 165 MHz for Synchroscan. The C1587 additionally offers a Synchronous Blanking Extender which enables observations of repeated events from 75 MHz to 30 GHz. Described as the "Universal Streak Camera," the C1587 can fulfill almost every fast kinetics need in the 400 to 1600 nm spectral range.
Click Here to Download Brochure for C1587 Universal Streak Camera
Features
Built-in microchannel plate image intensifier
Shutter mode capable of 100ns framing with up to 10 kHz repetition rate
Interchangable plug-ins for custom settings
Fine temporal resolution
Observations using dual time axes
High-speed gate function (0.1 μs to continuous)
Real-time read-out system
Low jitter
Superior dynamic range
High S/N ratio
An added feature of gated input allows spurious noise to be eliminated from the processed signal and this provides improved signal to noise ratio along with enhanced dynamic range. The gated input has two modes of operation and can also be turned off. Gate exposure times as fast as 100 ns can be achieved and are adjustable from the front panel of the C1587.
Fast Sweep Plug-in
The M1952 fast sweep plug-in offers time resolution of better than 2 picoseconds to fulfill the special needs of ultrafast kinetics experiments. The performance of this streak unit at high speeds is unsurpassed for time resolution, dependability, and ease of operation.
M1952 Features
Excellent time resolution
Multiple range of full-scale streak times
Continuous and Single-Shot trigger modes
Four trigger control modes including two gated modes
Synchroscan Plug-in
The M1955 Synchroscan plug-in features a low jitter, high speed, repeatable sine-wave generator that matches the frequency of a recurring picosecond phenomenon. This unit overlaps the resulting streak images from the recurring event at the same position on a phosphor screen. With the M1955, users can characterize weak optical phenomena with a high S/N ratio in a short measuring time. Multi-dimensional photometry with fast time resolution, high signal to noise ratio and superior dynamic range are achieved using this new technology.
M1955 Features
Time-resolution better than 10 picoseconds
Low trigger jitter:
- Electric Trigger: <±10 picoseconds
- Optical Trigger: <±30 picoseconds
Delivers intensity vs. time vs. position information
Expansion Units for use with Synchroscan Plug-in
Along with the two streak unit plug-ins, the C1587-01 comes with two expansion units, the Dual-Time Base Sweep Extender and the Synchronous Blanking Unit. The Dual Time-Base plug-in system (M2887) enables deflection of the photo-electron beam allowing the user to perform multiple sweep and longer length recordings. The Synchronous Blanking unit (M2567) performs an elliptical scan (perpendicular synchroscans in phase) so that flyback is deflected of of the phosphor screen and thus the flyback signal is not recorded. Synchronous Blanking can be used to observe recurring events whose signals produce "trailing" edge on the flyback on the order of half the sweep period.
M2887 Features
Horizontal and vertical sweep of differing speeds provide information about two timescales within the same measurement
Measure jitter of repetitive phenomena
Simultaneously measure pulse width and phase
M2567 Features
Especially suited for long decay-time phenomena
Improve signal-to-noise by blocking uncorrelated light
Applications
Picosecond spectroscopy
Beam diagnostics
Optical communication
Synchroscan plug-in specific:
- Fluorescence, absorption and Raman spectroscopy
- Optical ranging
- Photochemistry, photobiology and photophysics
- Synchronous pumped dye laser diagnostics
Fast plug-in specific:
- Time resolved spectroscopy
- Laser fusion
- Laser photochemistry, photobiology and photophysics
Operating Principle
Streak cameras are high-speed light detectors which enable direct measurement of light phenomena with unsurpassed temporal resolution. They can simultaneously measure time, position (or wavelength) and light intensity, and process the data in real-time using a dedicated read-out system.
The streak camera converts incident light into electrons and performs a high-speed sweep (deflecting electrons from top to bottom), enabling detection of the time variation of the incident light intensity by converting these into different positions on the screen. (See figure below.)
The light pulse to be measured is focused onto the photocathode of the streak tube through the slit, where the photons are converted into a number of electrons proportional to the intensity of the incident light. These electrons are accelerated and conducted towards the phosphor screen, and a high-speed voltage which is synchronized to the incident light is applied. The electrons are swept at high speed from top to bottom and are then multiplied in the MCP (micro-channel plate), after which they are bombarded against the phosphor screen of the streak tube and converted to an optical image.
The optical image which appears on the phosphor screen is called a streak image, and shows the intensity distribution of the incident light, by which the positions of the electrons can be determined in the perpendicular direction over the passage of time. Using this method, the temporal intensity distribution of the light being measured can be displayed as the spatial intensity distribution on the phosphor screen.
Click Here to Download Guide to Streak Cameras
Specifications
Power Consumption

150 VA

Input Slit Configuration

Slit Length (max.): 0 to 20 mm
0 to 5 mm (graduation 5 μm)

Spectral Response Range

400 to 1600 nm

Dynamic Range

(Synchroscan) better than 1000:1

Input Optics Magnification

3:1

Operating System Requirements

Windows 8/7/Vista or Mac OS X

AC Input Power

100/117/220/240 VAC
50/60 Hz

Temporal Resolution

2 picoseconds (fast single shot sweep M1952)
10 picoseconds (Synchroscan)