C1370-01 Advanced Streak Camera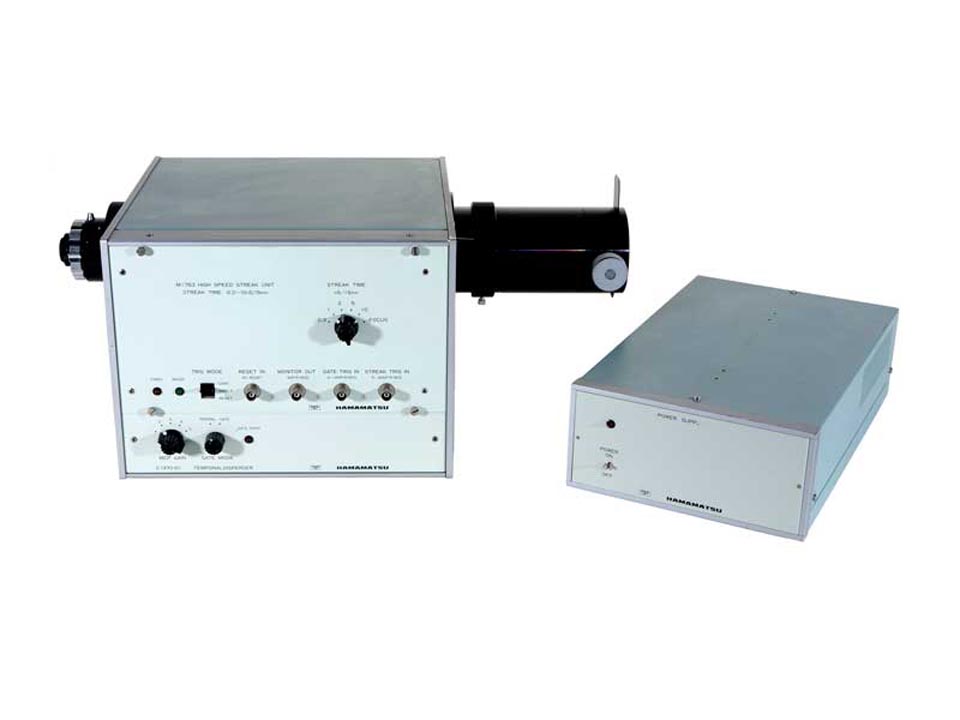 We no longer offer this product. If you want repair service or a custom modern equivalent, contact us.
This is a Hamamatsu C1370-01 Temporal Disperser advanced streak camera with M1763 high-speed streak module, power supply, power supply interconnect cable, F-mount to C-mount adapter for output optics, and user's manual. This instrument has been carefully inspected, and found to work flawlessly in all modes.
The C1370-01 uses the unique Hamamatsu developed N1357 streak tube with high resolution, enabling both excellent time resolution and high sensitivity with its built-in microchannel plate (MCP).
In order to obtain resolution times within 2 picoseconds, a high-speed avalanche switching circuit is used in the sweep circuit. This avalanche switching circuit has extremely high reliability and excellent sweep linearity.
The streak camera has been improved to have a gating function. Since the extinction ratio should be high enough to eliminate the false signal overlap during the retrace sweep or background build-up during the stand-by period, both photocathode and microchannel plate are gated. Gating function is very effective in the measurements as only one part of the long pulse train or a pulse absorption of a long reference pulse must be observed.
It has not only eliminated the need of the optical shutter but also made the adjustment of the trigger timing very easy. Improvements in the triggering system have enabled synchronization to trigger signals up to 800 kHz with a maximum sweep rate of 1 kHz.
Click Here to Download More Info
Click Here to Download Specifications
Specifications
| | |
| --- | --- |
| Phosphor Screen Diameter | 15 mm |
| Photocathode Material | Multialkali |
| Maximum Repetition Rate | 1 kHz |
| Photocathode Spectral Response | S-20 |
| Gain | 3x103 |
| Temporal Resolution | 2 picoseconds |
| Sweep Time/Full Screen | 0.3, 1, 2, 5, 10 ns/ 15mm |
| Lens Mount | Nikon F mount or standard C mount with F/C converter (included) |
| Trigger Delay | 20 ns |