40/40 Intensifier System for Imacon 500 Streak Camera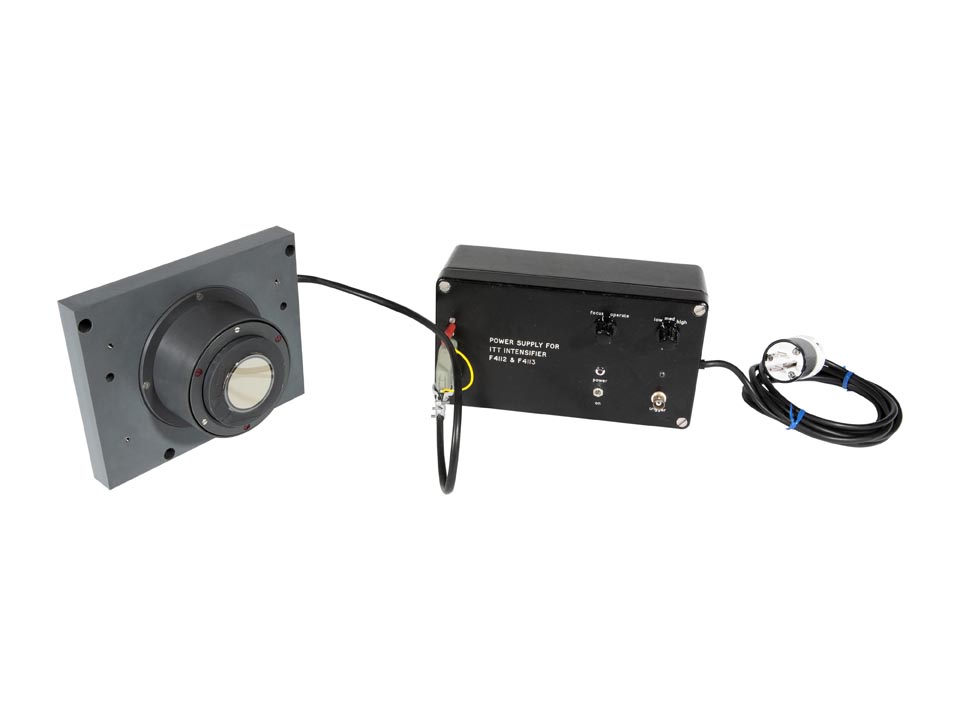 We no longer offer this product. If you want repair service or a custom modern equivalent, contact us.
This is an image intensifier kit for use with Hadland Imacon 500 streak cameras. System is in good working order except for minor intensifier burn-in (shown in photo above) that can be processed-out computationally.
Includes
ITT F4113 image intensifier with mounting fixture
Control unit
User Manual
The microchannel plate (MCP) Image Intensifier used in Single Shot mode is an electron-optical device in which the image of a low luminosity event is intensified electronically and displayed on a phosphor output screen. The input photocathode window of the Intensifier is connected, in tandem with the phosphor screen of the Image Tube, via a fibre-optic coupler ensuring effective luminance transfer.
Light falling on the photocathode emits electrons which are accelerated and focussed onto the microchannel plate input. The electrons are multiplied in number in the individual channels by up to 1000x and further accelerated towards the phosphor screen by 3.5 - 4.7 kV applied between the microchannel plate outputs and the screen. Due to the high electron field and close proximity to the phosphor, the electrons travel straight across and form an intensified bright image.
The 40/40 Intensifier (40mm input photocathode window, 40mm output screen) has unity magnification and zero distortion characteristics and, of the four Intensifiers available, provides optimum image intensification performance.
Specifications
| | |
| --- | --- |
| Light Gain | 1000 |
| Phosphor Screen Diameter | 40 mm |
| Photocathode Diameter | 40 mm |
| Magnification | 1 |
| Distortion | Zero |
| Maximum Temperature | 65 °C |
| Trigger Input | TTL |
| Photocathode Spectral Response | S-20 |
| AC Input Power | 115 V |
| Phosphor Material | P-20 |