ATE-08001M Motorized Air Bearing Rotary Table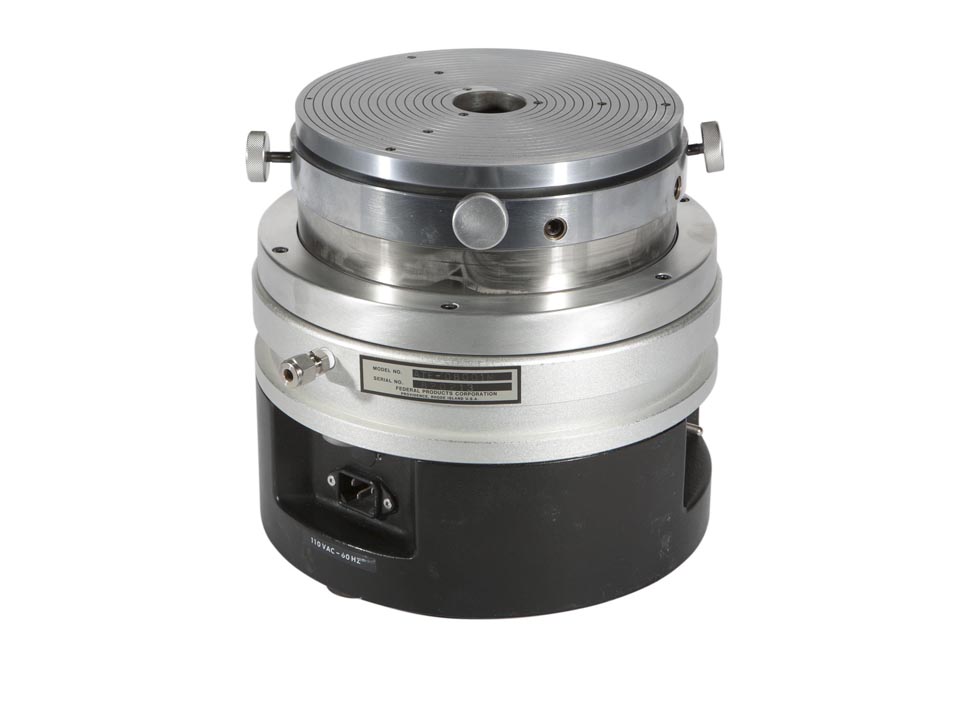 We no longer offer this product. If you want repair service or a custom modern equivalent, contact us.
This is a Federal Pneumo-Centric ATE-08001M motorized air bearing Rotary Table.
Includes
ATE-08001M Rotary Table with removable motor drive
AT-96 Tilt-Centering Table
Rotary Table
The precision base unit incorporates a fully compensated, hydrostatic (air) bearing with double thrust plate construction. The spindle is completely supported and completely cushioned by air so the table can be moved without any danger of spindle damage. All air bearing parts are hardened and stabilized stainless steel.
The 8 in dia table is hardened, ground and lapped flat to within .0001 in radially and to within .0001 in along any path of constant radius. The table has concentric grooves every 5/16 in as guides for approximate centering of the workpiece. Nine tapped holes (#10-32) facilitate attaching fixtures. A 1-1/2 in diameter opening extends through the base of the table to accommodate long shafts.
The table can be hand rotated or powered with a 1 rpm motor drive. An electric clutch disengages when the motor is switched off, permitting hand rotation. The motor drive can also be removed and the table used by itself.
Tilt-Centering Table
The Tilt-Centering Table mounts on top of the 8 in Rotary Table and is flat to within .0001 in in both radial and circular paths. It permits precise centering of workpieces through two fine pitch adjustment screws working against spring-loaded stops. Range of adjustment is ±0.025 in. The table also has tilt adjustment over a range of ±1/2° for proper alignment of part face to make squareness measurements or to compensate for lack of squareness between the axis of the part and the surface upon which it must rest. Spherical seat design places the center of tilt at 3 in above the table. Working diameter is 8 in and the table adds 1-11/16 in of height to the Rotary Table. Table top is hardened and chrome plated with 9 tapped holes (#10-32) plus centering reference grooves.
Click Here to Download More Info
Specifications
| | |
| --- | --- |
| Maximum Air Pressure | 125 psig |
| Air Supply Connection | 1/4 in Swagelok |
| Rotational Speed | 1 rpm |
| Coning Error | ±0.5 microinches/in |
| Axial Stiffness | 1,500,000 lbs/in |
| Axial Accuracy | ±0.5 microinches |
| Overall Height of Assembly | 9.5625 in |
| Radial Accuracy | ±0.5 microinches |
| AC Input Power | 110 V AC, 60 Hz |