Avtech AVP Variable Pulse Width High Speed Pulse Generator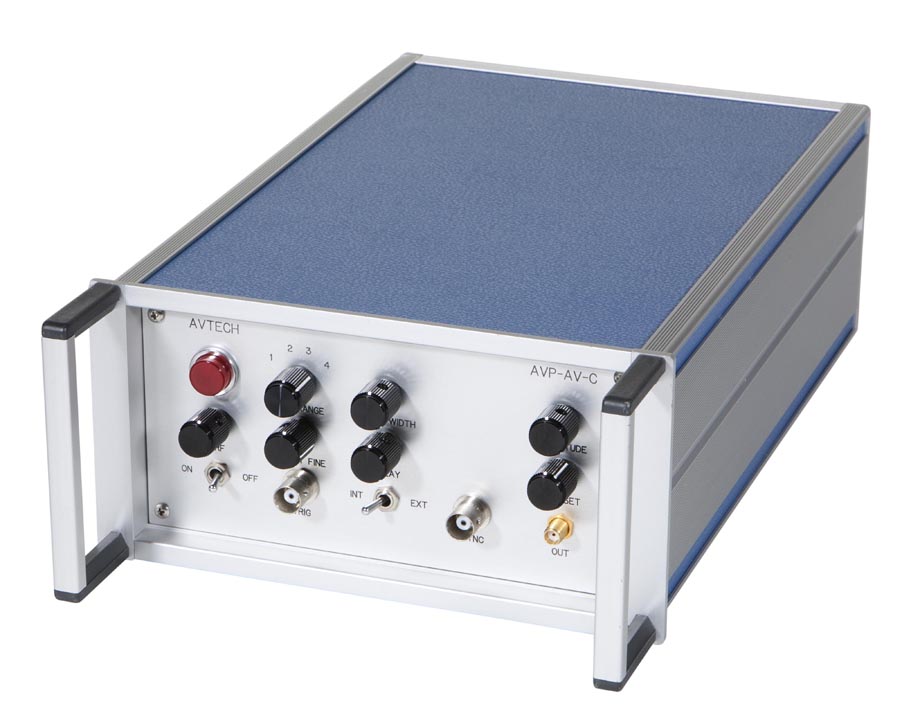 We no longer offer this product. If you want repair service or a custom modern equivalent, contact us.
This is a refurbished Avtech AVP-AV--2-C series ultra high speed pulse generator with user manual.
The AVP-AV-2-C is a high performance instrument capable of generating up to 10V into 50Ω loads at repetition rates up to 50 kHz. The rise and fall times are less than 200 picoseconds.
Options Installed
-C stand-alone lab instrument with internal clock, TTL syn output, and line powering
-W the pulse width is variable from 20 to 500 ns
-M a -20 dB monitor output is provided
-EA the output amplitude can be controlled by an externally generated 0 to +10V analog control voltage
-EW the output pulse width can be controlled by an externally generated 0 to +10V analog control voltage
-EO the output offset can be controlled by an externally generated 0 to +10V analog control voltage
Applications
logic family propagation testing
TDR
radar
optical and cable communications
SAW
nuclear
switching and propagation time studies
education
Click Here to Download More Info
Specifications
| | |
| --- | --- |
| Output Impedance | 50 Ω |
| Minimum Delay | 20 ns |
| Maximum Delay | 500 ns |
| Fall Time | 200 picoseconds |
| Output Rise Time | 200 picoseconds |
| Pulse Width Range | 20 to 500 ns |
| Maximum Repetition Rate | 50 kHz |
| Output Polarity | positive |
| Pulse Amplitude | 10 V |
| Trigger Jitter | 15 picoseconds |